It's so nice to meet you, Esther!
Can you tell us about yourself and your background?
Hello, my name is Esther Sandler, and I am a textile designer, illustrator, and craft artist. I've had several jobs within the creative industries – including designing uniforms for a school wear company in Perth, interning for a fashion house in Paris and working for a commercial tween fashion label as a full-time textile designer in Melbourne (with a couple of other jobs in between!).
Once I realised that a 9-5 working life wasn't for me, I decided to embark on my own journey, starting Togetherness and working freelance on the side. I've had many amazing opportunities to collaborate including creating illustrations and artwork for brands such as MECCA, Etsy, Frankie Magazine, Toyota Sewing Machines, Swisse and events such as The Big Design Market and Finders Keepers. I'm beyond thrilled to be able to add Adairs to this list!
What's the story behind starting your label Togetherness?
I started my business while I was studying textile design, making embroidered brooches to sell on Etsy to keep myself busy in the uni holidays. Gradually I built up my product range to include purses, bags and tea towels and began exploring these objects as ways to showcase my own textile designs. At the same time, I began to explore different ways of selling my products through smaller markets and with a few stockists. The growth of my business has been a very organic process of gradually building up the confidence and knowledge to take the next step and then repeating over and over again.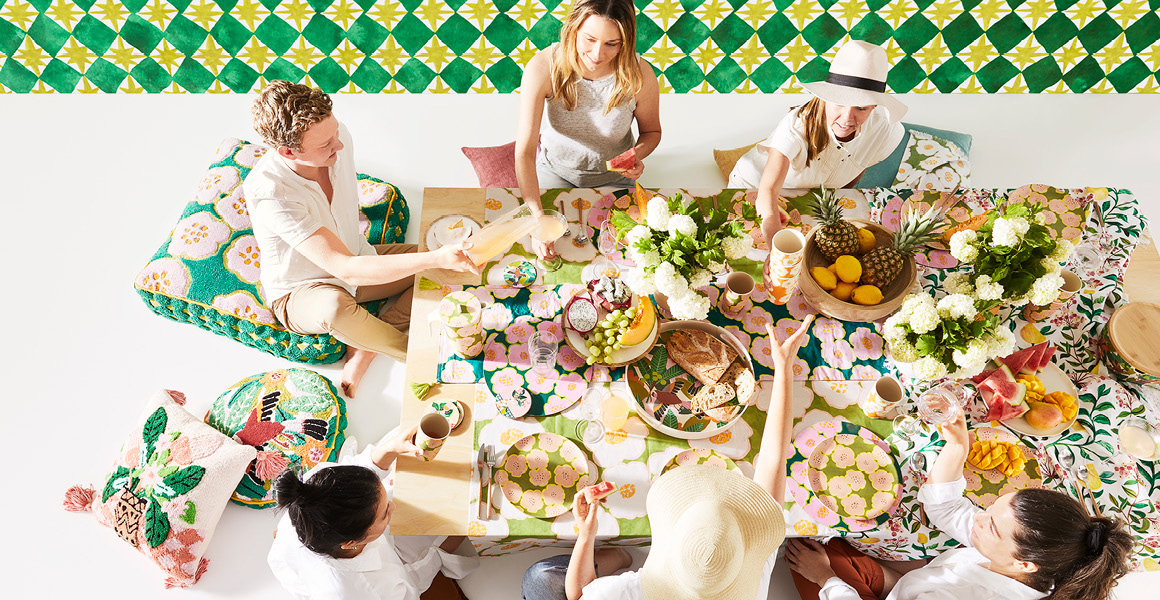 You have a very colourful and distinctive style, where does this come from?
I feel that colour is one of the most important elements of my artwork and it brings me so much joy to work with bold and vibrant colour palettes in my designs. I try to push myself to use unexpected combinations within my artwork ─ one challenge I sometimes set myself is to purposefully use 'ugly' colour combos or colours I don't generally like to see the sort of result I get. Sometimes it's a flop, but other times the result can be surprising!
Were you a fan of Adairs before working with our brand?
I'm still in disbelief that I have been lucky enough to work with such an iconic Australian brand. I've admired Adairs for the high-quality craftsmanship of their products and their focus on beautiful textile design, and it's been a wonderful process to bring the range together with their designers. I'm looking forward to seeing my artwork placed in front of a new audience and I'm excited to see how people respond.
What are some of your favourite pieces in the collection?
It's hard for me to pick favourites! I love the playfulness of both quilt cover designs which have allowed me to combine floral and geo artwork together in the same product. I think I am most looking forward to getting the Sunchaser Quilt Cover Set on my bed right away, along with a couple of the text pillowcases. The tufted cushions are also a really exciting product for me, as a lover of texture and traditional craft techniques. It's amazing to see my artwork translated using these methods.